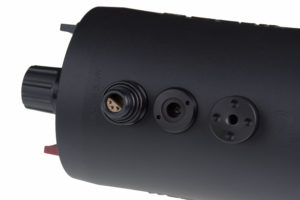 Connections
Full interface, no limitations on use.
The strobe is equipped with both S6 type synchro cable socket and Sea&Sea type fiber-optic cable socket.
The connections arranged in line on the body back make it easier to operate on the main controls and protect the cables from the stress of accentuated bending, thanks to their natural orientation.
An optical receiver is located on the front reflector for slave flash mode.